Introduction
If you're looking for a way to streamline your sales process, then you've probably come across ClickFunnels. In the online community, this software is hotter than the Bahamas on a sunny day.
This powerful tool can help you automate your sales funnel, making it easier to turn prospects into paying customers.
But what exactly is ClickFunnels, and how can you use it to grow your online business?
In this article, we'll explore five ways that you can use this insane software to boost your sales and revenue.
What is ClickFunnels?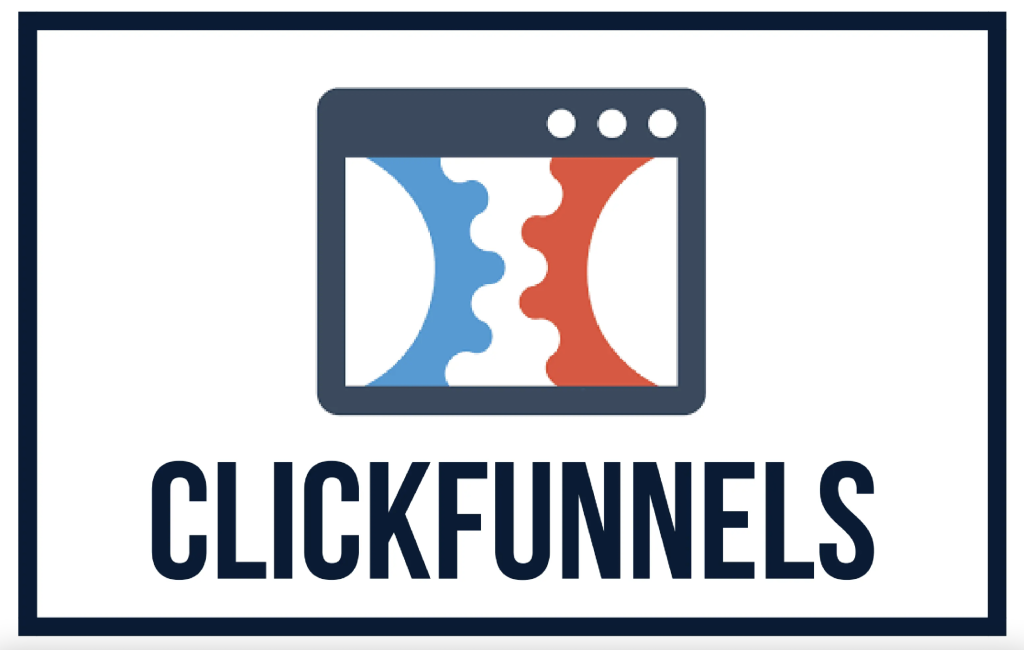 ClickFunnels is sales funnel software that includes everything you need to make and run a sales funnel. With sales funnels automating 90–100% of the sales process, it's no wonder they are so popular.
Russell Brunson started it in 2014, and it has become one of the most popular sales funnel tools since then.
ClickFunnels allows you to create custom sales funnels that cater to your specific business needs.
How does ClickFunnels work?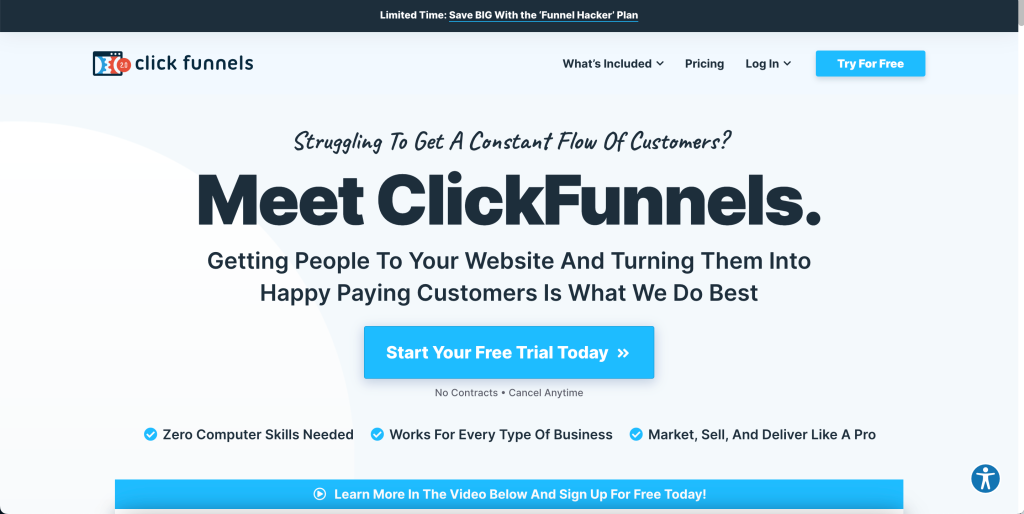 ClickFunnels works by leading people to your website through a series of steps that lead to conversion at the end. It's like a personal shopping experience tailored to each prospect.
Each step in the funnel is designed to move the prospect closer to making a purchase.
It provides a range of templates and tools that you can use to create different types of funnels, depending on your business goals.
5 Ways to Use ClickFunnels for Your Online Business
a.
Lead Generation Funnel
A lead generation funnel is designed to capture the contact information of potential customers. With ClickFunnels, you can create an opt-in page that offers a lead magnet (such as a free e-book or webinar) in exchange for the prospect's email address. Once you have their contact information, you can follow up with them via With ClickFunnels, you can make a sales page that shows off your product or service and walks a potential customer through the process of buying it. email and nurture them until they're ready to make a purchase.
b. Sales Funnel
A sales funnel is designed to convert prospects into paying customers. You often use a long-form sales letter or a video sales letter (VSL) to engage the audience and nurture them into the sale.
ClickFunnels offers a range of templates and tools that you can use to create a sales funnel that's tailored to your business needs.
c. Webinar Funnel
A webinar funnel is designed to promote and sell a webinar. A webinar is the online term for a long sales presentation. You can create a landing page that promotes your webinar and collects registrations. Once someone registers, ClickFunnels can automatically send them reminder emails leading up to the webinar, as well as follow-up emails after the webinar to promote your product or service. You may want to integrate with a 3rd party webinar platform that tracks watch time and show-up rates to further customize their journey and email marketing sequence
d. Membership Funnel
A membership funnel is designed to sell a subscription-based product or service. With ClickFunnels, you can make a landing page that promotes your membership program and collects payment information. The great thing about housing memberships in Clickfunnels is that you can easily integrate emails, customer centers, and your CRM to manage the whole process.

ClickFunnels can also handle access to your membership content, making it easy to manage and send your content to your members.
e. Product Launch Funnel
A product launch funnel is made to promote and sell a new product or service. We've all seen the hyped-up marketing campaigns when something is about to launch.
With ClickFunnels, you can make a landing page to promote your product launch and collect email addresses. You can even put them on a waiting list and delay the emails that follow up; this helps increase the excitement of the product and increases buyers.
Is ClickFunnels worth the price?
The cost of ClickFunnels is a common concern for many people, especially those who are just starting out in the online business world.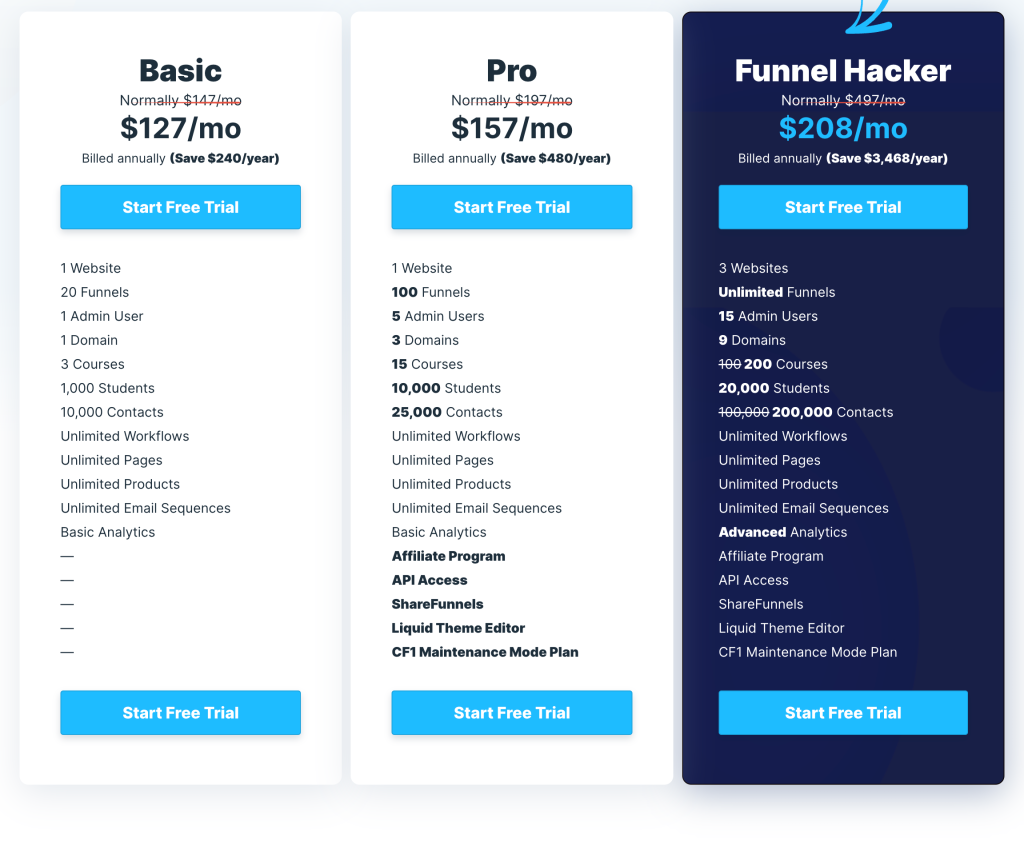 The pricing of ClickFunnels can be a little bit steep, but it all comes down to cost comparison.
When you see marketers say you can make $5,000 without a funnel, emails, automations, etc., all that means is you're going to be doing all of those functions manually. which will lead you to burn out and probably quit.
If you asked an electrician to come to your house to fix something and he tried to cut the wires with his bare hands, would you call him a fool for not buying wire cutters?
Of course you would. It's the same in the marketing world. If your time, mental health, and ability to think about growing your business are important to you, then paying for the basic price of Clickfunnels will be worth it to you.
It's important to remember that you are not just paying for a landing page builder.
You are also getting access to a suite of tools and features that can help you build a profitable online business.
There are three main pricing plans for ClickFunnels:
The Basic plan, which costs $147 per month
The Pro plan, which costs $197 per month.
The Funnel Hacker plan costs $297 per month.
Ultimately, whether or not ClickFunnels is worth the price depends on your specific needs and goals.

If you are serious about building a successful online business and you are willing to invest in the right tools and resources, then ClickFunnels can be an excellent investment.
However, if you are just starting out and you are not sure if you are ready to commit to your business, then you may want to consider other options.
If you want to give the software a try then click here to get your 14 day free trial of Clickfunnels 2.0
People Also Ask
Here are some of the most common questions people ask about ClickFunnels:
What does ClickFunnels do?
ClickFunnels is a platform that allows you to create sales funnels and landing pages for your online business. It includes a drag-and-drop editor, pre-built templates, and a suite of tools and features that can help you automate your sales process.
Can you really make money with ClickFunnels?
Yes, you can make money with ClickFunnels. Many online businesses have used ClickFunnels to create successful sales funnels and generate revenue. However, it's important to remember that ClickFunnels is just a tool. You still need to have a solid business plan, a good offer, and a clear understanding of your target audience in order to be successful.
Is ClickFunnels the same as Shopify?
No, ClickFunnels is not the same as Shopify. While both platforms are used to create online businesses, they have different focuses. ClickFunnels is primarily used for creating sales funnels and landing pages, while Shopify is an e-commerce platform that allows you to create an online store and sell physical products.
Get Your Free Copy Of "The Online Passive Income Roadmap To Six Figures"
Looking to create a steady stream of passive income and live the life of your dreams? Look no further! Our Online Passive Income Roadmap to Six guide is here to help you achieve just that. With step-by-step instructions and actionable tips, this guide will walk you through the process of building a successful online passive income stream. From finding profitable niches to creating valuable content and monetizing your platform, we cover it all. Plus, it's completely free! So what are you waiting for? Sign up now and start building the financial freedom you've always dreamed of.