Introduction:
If you're a YouTuber, then you know how important it is to optimize your videos for search engines, increase your reach, and grow your channel. That's where TubeBuddy comes in – a popular tool that claims to help YouTubers save time, optimize their content, and grow their channel but the question remains is Tubebuddy worth it?
But with so many tools out there, it's natural to wonder: In this article, we'll take a comprehensive look at TubeBuddy, its features, benefits, and drawbacks, and help you decide whether it's worth investing in.
What is TubeBuddy?
TubeBuddy is a popular YouTube channel management tool that claims to help YouTubers save time, optimize their content, and grow their channel. It provides a wide range of features such as keyword research, video optimization, bulk processing, A/B testing, and more.
Tubebuddy can break down the process for you in terms of growing your Youtube channel.

The simple chrome extension can help you quickly identify gaps in your marketing strategy and can propel your videos forward.


TubeBuddy Features and Benefits
TubeBuddy offers a wide range of features and benefits for YouTubers, including:
Keyword Research: TubeBuddy provides advanced keyword research tools that help you find the best keywords to target for your videos.
Video Optimization: TubeBuddy provides on-page optimization tools that help you optimize your video's metadata, tags, and description for better search engine rankings.
Bulk Processing: TubeBuddy allows you to make changes to multiple videos at once, saving you time and effort.
A/B Testing: TubeBuddy's A/B testing feature allows you to test different titles, tags, and descriptions for your videos to see which ones perform better.
Competitor Analysis: TubeBuddy provides insights into your competitors' strategies, helping you stay ahead of the competition.
How Can TubeBuddy Help You Grow Your Channel?
TubeBuddy can help you grow your channel in several ways, including:
Increasing Your Visibility: TubeBuddy's keyword research tools help you target the right keywords for your videos, increasing your visibility in search results.
Improving Your Rankings: TubeBuddy's optimization tools help you improve your video's metadata, tags, and description, which can improve your search engine rankings.
Saving You Time: TubeBuddy's bulk processing and other time-saving features help you save time and focus on creating great content.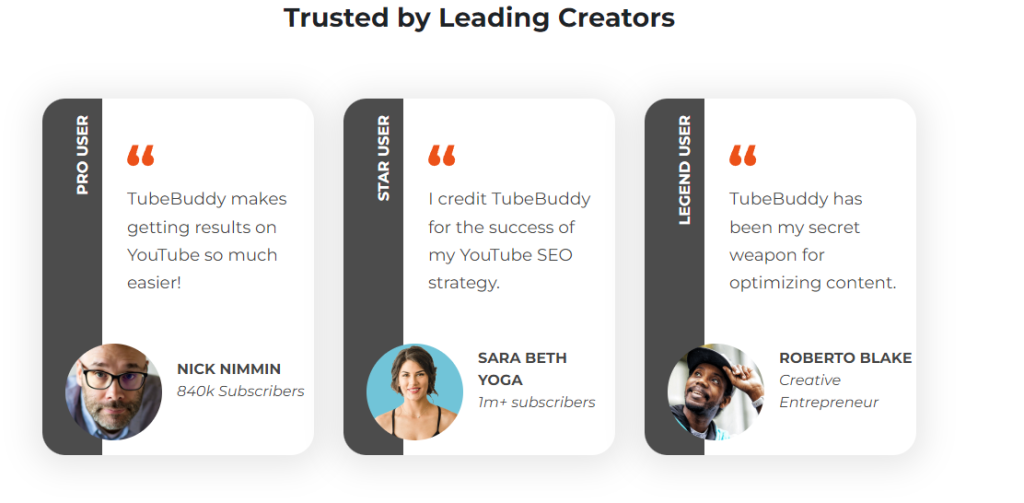 TubeBuddy Pricing and Plans
TubeBuddy offers several pricing plans, including:
Free: The free plan includes basic tools and features, such as keyword research and tag suggestions.
Pro: The Pro plan starts at $5.99/month and includes advanced features such as bulk processing, A/B testing, and competitor analysis.
Star: The Star plan starts at $29.99/month and includes additional features such as video topic planner, thumbnail generator, and more.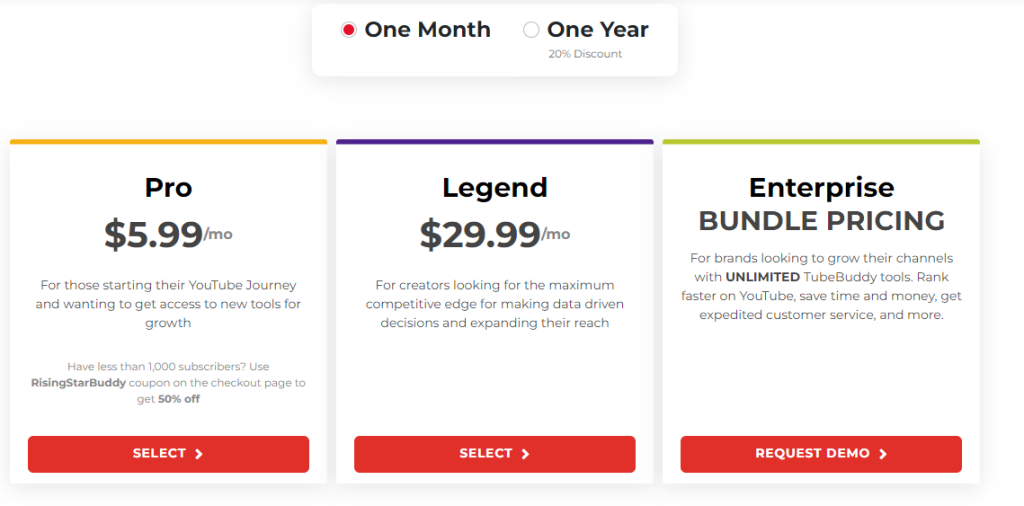 Pros and Cons of Using TubeBuddy
Pros:
TubeBuddy offers a wide range of features that can help you optimize and grow your YouTube channel.
It provides a user-friendly interface and is easy to navigate, making it accessible to users of all levels.
The bulk processing and A/B testing features can save you a lot of time and help you make data-driven decisions.
The free plan offers basic tools and features that can be useful for beginners.
Cons:
Some of the more advanced features are only available on the higher-priced plans, making it less accessible for those on a budget.
The pricing can add up if you need access to all the features, making it a costly investment for some.
Some users have reported issues with the software not working correctly or being slow to load.
FAQs About TubeBuddy
Is TubeBuddy safe to use
Yes, TubeBuddy is safe to use. It is an officially approved tool by YouTube and has been used by thousands of YouTubers.
Does TubeBuddy work on mobile devices?
No, TubeBuddy is a browser extension and only works on desktop devices.
Can I cancel my TubeBuddy subscription at any time?
Yes, you can cancel your subscription at any time, and your account will be downgraded to the free plan.
Conclusion: Is TubeBuddy Worth It?
So, is TubeBuddy worth it? The answer is, it depends. (Me personally – Yes!)
If you're serious about growing your YouTube channel and have a budget to invest in a tool, TubeBuddy can be a useful investment. Its features can help you optimize your videos, save time, and make data-driven decisions.
However, if you're just starting and don't have a budget, the free plan can be a good starting point, and you can always upgrade later on. Ultimately, whether TubeBuddy is worth it or not depends on your individual needs and goals. – Sign up for the free plan today
In conclusion, TubeBuddy is a useful tool that can help you grow your YouTube channel, but it's not a one-size-fits-all solution. We hope this article has provided you with the information you need to make an informed decision about whether TubeBuddy is worth it for you.
Get Your Free Copy Of "The Online Passive Income Roadmap To Six Figures"
Looking to create a steady stream of passive income and live the life of your dreams? Look no further! Our Online Passive Income Roadmap to Six guide is here to help you achieve just that. With step-by-step instructions and actionable tips, this guide will walk you through the process of building a successful online passive income stream. From finding profitable niches to creating valuable content and monetizing your platform, we cover it all. Plus, it's completely free! So what are you waiting for? Sign up now and start building the financial freedom you've always dreamed of.